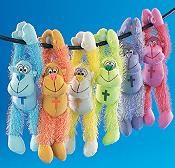 On the 9th day of Christmas my webmaster gave to me, a 9″ Plush Long Arm Religious Gorilla!
Oh how I wish I were making this one up today. I mean talk about a John 11:35 moment – what in the name of all that's Christmas does a day-glow colored gorilla have to do with anything related to the birth, life and death of our Savior?
That said, I think the colorful string of hominidae hangers do at least offer us an excellent object lesson to those new to church website design:
Don't go ape over new technologies just for the sake of implementing them!
Here are 9 wretched examples, from memory, I've encountered where the church webmaster made a monkey out of their website with some new gizmo or gadget they encountered:
gratuitous flash animations & navigation
cursed cursor trailers
spinning animated crosses
page swipes & animated marquees
dhtml snowflakes drifting down the screen
pop-up and pop-under windows
cursed cursor trailers
disabled right-click
rainbow colored dividers & title text
Please don't do this. Yes they effects are all cool … for about the first five seconds, after that, they tend to drive your users away.
Remember, just because you can, doesn't mean you should. That is, don't be afraid to use various technologies, just make sure there is a legitimate need.